Amicio answers call for help at Sidaction
In January 2021, we received an urgent call for help from a customer relationship colleague on behalf of Sidaction, a major public fundraising event in France. Covid had taken over and was strangling non-profit associations. Sidaction's regular contact centre support team partially withdrew its services. It was a hard time for everyone.
Who is Amicio?
Amicio is the 100% made in France reference for remote customer relationship management. We have provided innovative customized solutions since 2005, improving sales performance and enriching the customer experience for the brands we represent. For us, the relationship between two people is what creates the core for companies to generate value. It is what we foster with our Customer Love approach.
Who is Sidaction?
For over 25 years, Sidaction has been the only association fighting AIDS that supports research in France. Their action is all the more important today, as the health crisis has caused a drop in HIV testing, thus representing a risk in renewed spread of the disease.
In France in 2020:
173,000 people were living with AIDS
6,200 discovered that they were HIV-positive, but 24,000 are still unaware
650,000 fewer HIV tests than normal were performed from January to October 2020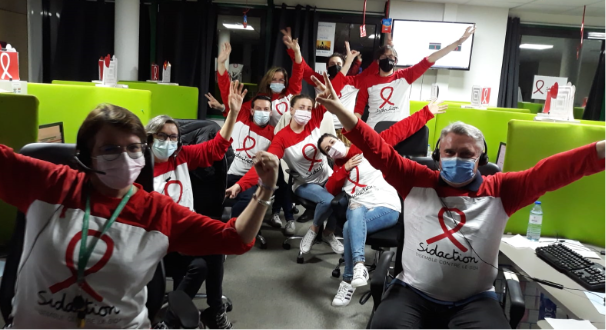 Their request was simple: would Amicio provide 50 volunteers available from 8:00 PM to midnight on Saturday, March 27, and another 30 volunteers on Sunday, March 28 from 6:00 PM to midnight?
124 volunteers for Sidaction 2021: Amicio accepted the challenge!
Without hesitation, a publication was sent via TalkSpirit to all Amicio employees. We soon had more than enough Amician volunteers. Within 48 hours of the publication, we recruited more than 80 participants at our three sites for Saturday night, and more than 40 for Sunday. An overwhelming vote of approval and heartfelt comments:
"I admire the fact that Amicio is offering this type of initiative for a noble cause. I'm happy to volunteer," and "Great idea!! Sign me up for Saturday…"
We received over 50 comments thanking us for this rare opportunity to participate.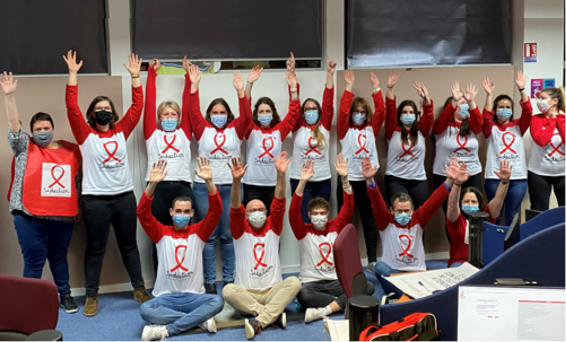 The enthusiasm did not come as a surprise to us, as our efforts to build our new brand during the summer of 2020 involved interviewing our teams about their strongest expectations in our remote relationship management world, and solidarity was ranked in the top 5!
Two wonderful evenings with Amicio and Sidaction teams
After some enriching discussions with Sidaction teams and our own, we were ready for action on Saturday and Sunday, March 27-28, 2021, serving as the volunteer remote contact centre for the Sidaction fundraising event. Our volunteers took calls on the "110" toll-free number at our three sites in Abbeville, Libourne, and Redon. Our mission was to collect as many donations as possible.
We experienced two truly wonderful and charitable evenings!
Summary of our participation in Sidaction 2021
124 Amicio volunteers were presented over the two eventful evenings; over 200,000 euros in donations collected; our three sites connected via videoconference to share highlights, activities during slow periods – such as on Sunday night to see who could collect the most donations or get the highest amount. Sidaction representatives were present at each site, enthusiastic about our amazing ambiance, team spirit, and high level of professionalism.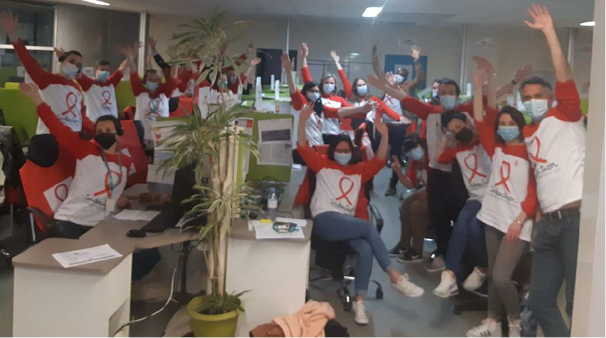 An enthusiastic conclusion shared at all our sites: "So, can we do it again in 2022?" And what about other worthy causes?
Would you like to support Sidaction?
By phone: Call 110 (toll-free number in France)
By Internet: www.sidaction.org
By SMS: To make a 5 € donation, send "DON" by text message to 92110 (at your regular SMS cost, or included in your subscription)